The Digs Discovered
Submitted by Bill on Sun, 10/10/2004 - 05:13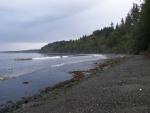 Found It: Freshwater BayWe've known for some time a move from California was in our future. The "when" and "how" have always been variables, but the "where" is now becoming clearer.
Washington was always at the top of our list. After discovering Sequim and the Olympic Peninsula at a C-Brat Gathering, the search narrowed.
Over the course of a couple years, we made several trips to the area. While the State Park and Sequim Bay are nice, Sequim quickly got crossed off the list. Many folks love the area for it's mild weather and minimal rainfall, but living in CA, I've had enough brown hills for a lifetime.
Initially, we were impressed with the areas south, at the base of the Olympics, between Sequim and Port Angeles. Plenty of privacy, and good views from many locations. Then in October of 2002, we were introduced to Freshwater Bay…'twas love at first sight!
As luck would have it, we were introduced to a local landowner who had a 5 acre parcel for sale. Within a few minutes of seeing the place, the deal was made. Water views to the north, mountain views to the south, and shared access to a private beach on Freshwater Bay.
Login to post comments

30818 reads